Discover more from Glass Eye Studios
The Online Home of Khary Randolph & Joanne Starer: GlassEyeComics.Com
Over 1,000 subscribers
So yeah, we've been a little quiet lately! It's not because we don't love y'all, we truly do. But the last couple weeks have been crazy (in the best way), and the crazy train doesn't look to be stopping any time soon. In the meantime, we wanted to make sure you are been kept in the loop.
HEED THE SIREN'S CALL
It's been a long time coming, but it's finally here. This Wednesday, July 12, 2023, SIRENS OF THE CITY #1 will be available in comic shops. Digital copies can be purchased from content providers, including comiXology, iBooks, Google Play, and Kindle. If you've been here for a while, there's a good chance you've read some of this stuff. But there is something so special about holding a comic book in your hands. Plus we have amazing variant covers from Jenny Frison, David Mack, Lee Garbett, and Skottie Young! The Summer of Sirens has officially arrived.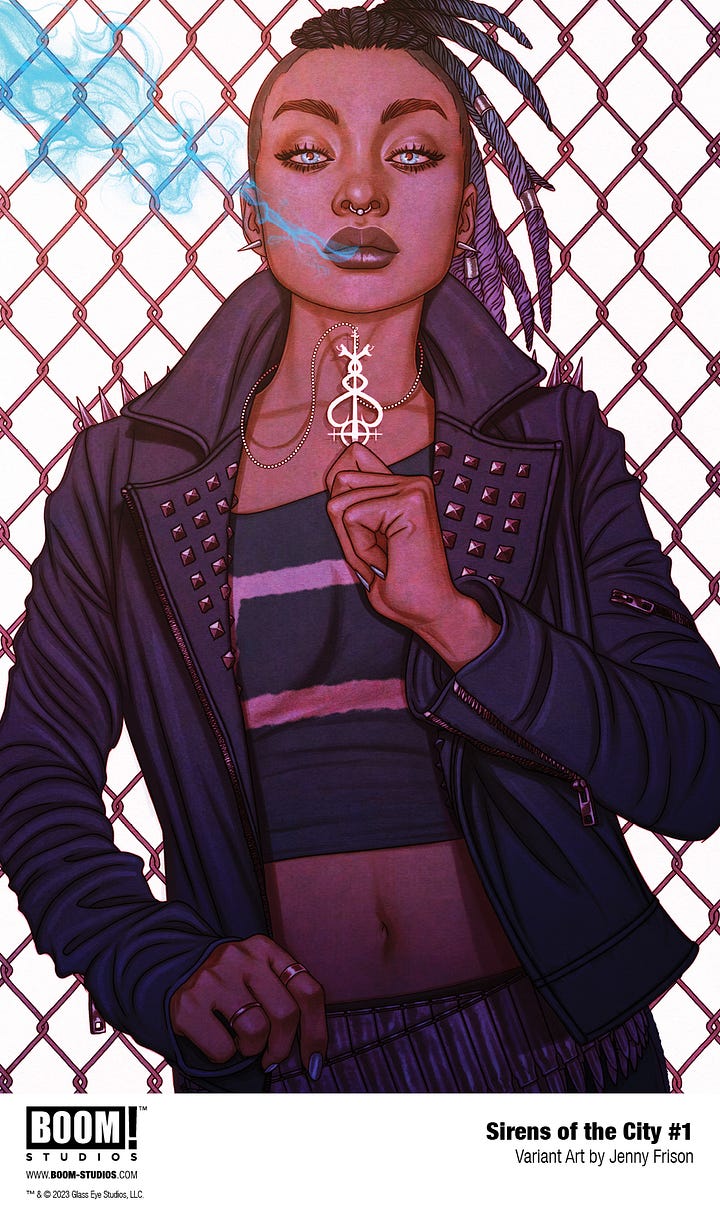 KHARY AND JOANNE GO TO WASHINGTON
On June 23rd, Cellphone: Unseen Connections officially opened at the Smithsonian National Museum of Natural History. In their words:
Cell phones are the most iconic technology of our age. For the first time in history, telecommunications connect people at a truly global level, rapidly transforming not only human culture but also humans themselves. Despite their ubiquity, and the intimacy in which cell phones are situated in our daily lives, their complicated life histories remain hidden from their most avid consumers. Through authentic artifacts, immersive and digital experiences, and data visualization, Unseen Connections illuminates the world of cell phones at the intersection of science, art, technology, and society.
It was an incredible moment for us. Pictures really can't convey how massive this thing actually is. We spent more than a year working on this project with a group of amazing people, and to see it all come together was simply…breathtaking.
We were able to share this with our families and friends, which made it that much sweeter. The exhibit will be up for a minimum of 3 years, so next time you're in Washington, DC, make sure to swing by the Smithsonian.
SAN DIEGO COMIC CON
SDCC is this month from July 20-23, and Glass Eye Studios will be there! We won't have a table, but we'll be on panels and doing signings. We'll publish a full schedule of all our appearances a little closer to the date. We haven't attended a proper American comic con since February 2020, so a lot of comics have come out since then. Get your sharpies ready, and we'll see you there!
As always, much thanks to all of you who have supported Glass Eye over the past year. Many of the things we have coming out in the next few are a direct result of your incredible support, and it means a lot. We'll get back to the regular scheduled programming very soon, once things settle down a bit. In the meantime, here is the cover to Sirens of the City #3, which will be in comic book stores on September 20th.